Instagram Stories are the perfect way to share life's moments, but they also provide a great opportunity to expand the impact and reach of your influencer marketing campaigns.
After launching in August 2016, Instagram Stories are viewed by 500 million users every day (Instagram internal data, January 2019) and by nearly 1.7 billion users monthly. So it's no surprise with these numbers, that the Stories format has become an essential part of the influencer marketing media mix.
Instagram Stories are proven route to drive product awareness and sales (data via 99firms):
1 in 4 Millennials and Gen Z-ers look for Stories of the products and services they want to buy
15%–25% of people swipe up on a link in branded Stories
One-third of the most-viewed Instagram Stories are from businesses
36% of businesses use Instagram Stories for product promotion
59% of brands link Instagram Stories to a shoppable page
Instagram Stories accounts for 34% of Instagram's sponsored content
Why you should use Instagram Stories for your influencer campaigns
Everyone loves Stories! Brands, influencers, and agencies can all benefit from integrating Instagram Stories into the mix. They make it easier to engage with an influencer's audience, by sharing more authentic and off-the-cuff content, compared to the perfectly polished pictures posted on the feed (grid posts).
Let's take a closer look at why Instagram Stories are taking such an important place in influencer marketing.
Authenticity
Instagrammers enjoy editing their pictures to get glossy images. The feed is incredibly beautiful and eye-catching, similar to a curated fashion magazine, whilst the Stories feel more spontaneous and authentic. And it's no secret that influencers and brads are keen to build a more authentic relationship with their audience or target market.
Instagram Stories are interactive
Unlike feed posts, Stories can be interactive in a number of ways and brands and influencers are making the most of it. Interactivity helps build awareness, generate positive engagement and ultimately can drive traffic to a brand's website – to help deliver sales. For example Airbnb has recently challenged their audience to get inspired and creative, using gifs and stickers to build their dream room.
"Swipe-Up" feature helps drive customers to your website
One of the biggest limitations for brands using Instagram is that influencers can't incorporate links in the image or the caption of their feed posts. Influencers can add a brand's website or promotion link in their Instagram bio, but Stories enable the influencers' followers to "Swipe-Up" to learn more about a product or service (basically a link to the brand website). This is an amazing way to drive qualified traffic to a brand's website, but remember that an Influencer needs over 10k followers to access the 'swipe-up' feature.
Zara Home shared some recipes in Stories inviting the viewers to see more on their website.
How to use Instagram Stories in your influencer campaigns
So how can marketers use Instagram Stories effectively for influencer marketing campaigns?
After seeing why Instagram Stories are a valuable tool for influencer marketing, here are a few cool and creative ways to use this feature to reach new audiences and drive leads:
Behind-the-scenes & unboxing
Instagram Stories is the perfect place where influencers can communicate directly and spontaneously on a more personal level. An influencer sharing moments of their everyday life and talking about a product feels exactly like a recommendation you could get from a friend rather than from an ad. That's why new product reviews, unboxings or tutorials are appreciated and watched by the influencers' audiences. These will make the followers feel exclusive and part of the community
Make it interactive and fun to boost engagement
If you wonder what your potential customers expects from your brand, there is only one thing to do – just ask them! This has never been easier as the Stories feature offers a number of interactive elements that instantly encourage audience engagement.
Decorating your Stories with stickers is a creative and playful way to drive more audience interactions. Make it fun and involve the audience, there's nothing people love more than feeling part of a community!
Seek feedback from their audience by using polls
Influencers regularly share polls in their Stories to ask their followers about what to wear, what to eat, what to buy. Brands can also tap into this feature by asking the influencer's audience engaging questions about their products and services. This can help brands better understand what messages or products resonates with this audience.
Via a very simple question you can get quick feedback on a product and create a strong sense of community and connection with the influencer's audience. This helps build trust and affinity with your brand – which hopefully can lead to more purchases down the road.
Go "live" on Instagram
Going live on Instagram Stories opens up the possibility to have an Influencer talking live and direct to their followers, about your products or services – this could format could include product demos, shopping hauls, make-up tutorials, workouts.…whatever works to bring your product to life.
Added bonus – when the influencer goes live, their followers are notified, so it's a great way to increase awareness, engagement and interactivity.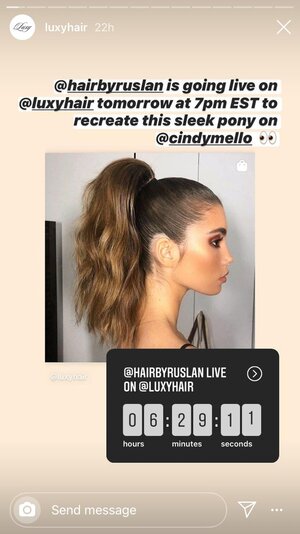 Conclusion
With more than 500 million daily users, marketers can not ignore the power of Instagram Stories to engage with their audience and to increase their brand awareness.
If you use Instagram Stories as part of your influencer marketing campaigns, it's essential to monitor and analyse your stories data in order to ensure the effectiveness of your strategy.
Measuring your performance is easier than ever with Dyzio. Stop chasing influencers to get screenshots of their Stories, sign up to dyzio and start tracking Instagram Stories data in real-time, today! Feel free to book a demo if you'd like to see dyzio in action.