Managing influencer marketing campaigns can be both complex and time consuming, so you want to make sure that you have the right data, tools and processes in place, to help you maximum your return on investment and the effectiveness of your campaigns.
To help you achieve this goal, we have outlined 10 tactics that we recommend you should adopt, in both the 'Planning' and 'Live' phases of your campaigns. Some of these tactics are simple requests that you can ask your influencers to do, others are more fundamental changes in how you can run, and more importantly, optimise your campaigns.
Part 1: Campaign Planning
The first 5 tips and recommendations are focused on the planning stages of your campaign, so how best to evaluate influencers you would like to work with – and requests you could make, during the negotiation.
Tip 1. Ask to see their audience / follower demographics
A simple one to start, but it's imperative that you understand the breakdown of each influencers' audience demographics (e.g. followers or subscribers). If your product or service is targeting Males aged 29-34, does the influencers' audience profile have a strong match against this demographic?
There are a few ways to get this data. Firstly, you can ask the influencer to share an image or screen shot of their audience demographics from each social network they are posting on. Secondly, you can subscribe to an influencer marketing platform that provides either estimated or authenticated audience data.
If the influencer does not want to share the demographic profile of their followers, you should ask them why?
Recommendation: Ask influencers to share their audience demographics for each social platform – or find a tool that provides the data for you.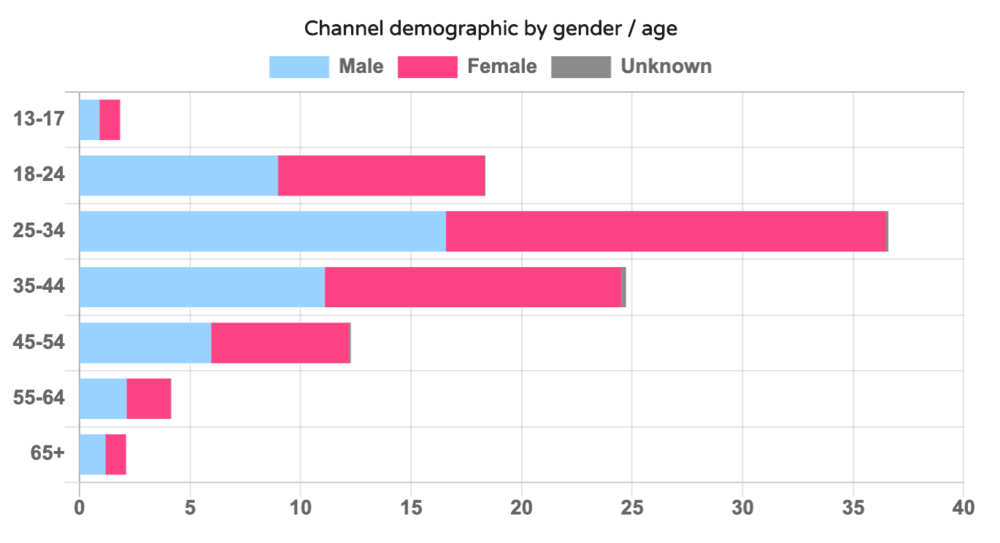 Tip 2. Calculate their Engagement Rate and % Reach Rate
These are two metrics that can really help you understand how many people your influencer campaign is likely to reach – and how engaged their audience might be in the content they create for you.
Engagement Rate
The Engagement Rate is the industry standard for measuring how engaged an influencer's audience is, in their content. Basically it measures the total amount of engagements (likes + comments) from each influencer's posts, related to their followers.
(likes + comments) / follower count x 100
Micro-influencers engagement rates are usually higher, as their content is more niche and relevant to a smaller audience.
It's also useful to understand how the engagement rate of their brand collaborations (#Ads) performs against their organic content – as this can have an impact on the potential effectiveness of your campaign.
% Reach Rate
It's important to understand, that when an influencer creates a #Ad for your campaign, the post (or video or story) won't be seen by all of their followers. For example, if an influencer has 1m followers – their Percentage Reach Rate might be 60% – so on average, 600k of their followers will see one of their posts. So if you're planning a campaign based on total reach – the follower numbers can be misleading.
% Reach Rate = Followers / Reach x 100
You can ask influencers to provide their 14 day or 30 day average reach, this metric is available in the Instagram App. Or you could ask the influencer to share screen shots of the insights data from their last 5 #Ads – which would provide the reach data, then you can do the calculations.
In general terms, the lower the number of follower, the higher the reach rate (as well as the engagement rate).
Recommendation: Calculate each influencers' Engagement Rate and % Reach Rate, to help you better plan the potential total performance for your campaign.
Tip 3. Analyse their Brand Collaboration history
It's important to spend some time understanding which brands influencers have worked with and how effective these campaigns were vs their organic content on social media.
You can ask the influencer to provide a list of brands they have worked with and also request links to these posts – this will help you understand if there are any conflicts of interest, but more importantly, you can review the quality of their content, and analyse the effectiveness of this content vs their organic posts.
There are also tools available, that track Brand Collaborations for influencer marketing – and provide access to the posts and data.
Recommendation: Find a tool that tracks brand mentions from your influencers, or request that the influencers provides a list and examples of brands they have collaborated with.
Tip 4. Ensure that influencers include Stories in the agreement
In general, most influencers don't want to clog up their Instagram Grid with too many brand collaborations. They want to provide authentic content to their followers, so too many #Ads can put their audience off.
But, as Stories only last for 24 hours, most influencers are happy to offer a number of Stories with every Grid Post, as a package deal. The other massive advantage of Stories, is that their audience can 'Swipe-up' to visit your website, directly from a Story, which they can't from a Grid Post (NB: influencers need more than 10k followers to access the Swipe-up feature).
When we recently analysed data from campaigns that were managed through the dyzio platform in 2020, and we can see that on average, 3 Stories were delivered for every Grid Post. So make sure you include Stories in your plan.
Recommendation: Ask influencers to provide 3 or more Instagram Stories, to every Grid post that they are creating as part of your campaign.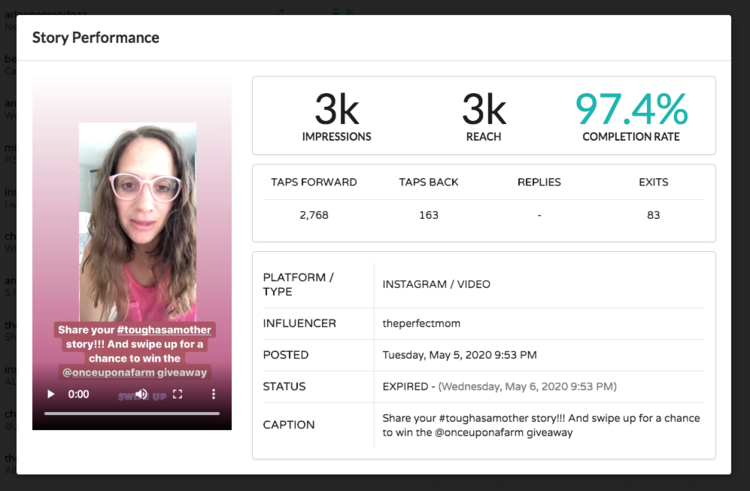 Tip 5. Agree the best day & time to post on their channels
As with all marketing, it's important to understand the best day of the week and time of the day that each influencer posts content for your campaign. For example, does content posted on a Tuesday morning get the highest reach or engagement rate?
Influencers have access to this data in the Instagram Insights (or other social platforms) – so make sure you include this question when planning the campaign and agreeing posting schedule with them.
Recommendation: Agree the best day / time for each post and story with your influencers, based on their real data.
---
Dyzio can help you seamlessly manage all the tasks listed above – from providing demographic data for the influencers you want to work with, to real-time insights, to integrations with Google Analytics or your Facebook Ads Manager.
If you'd like to discuss how dyzio can help you track from Influencer posts to conversion, and really maximise your return on investment – please get in touch.
Read part 2 here