Fully automate your influencer-marketing activity
Take the pain out of influencer campaign management and tracking of large volumes of influencer with scalable campaign tracking, real time reports and data tailored to your clients' KPIs.
Build your Agency's private influencer database
Dyzio is the complete influencer data and reporting platform for agencies, automating the tracking of influencer profiles and campaign performance data, generating real time reports ready to share direct with clients.
Dyzio features include:
Automatic tracking of influencer content across Instagram, YouTube, Facebook, TikTok, Twitter and Twitch

Access to richer insights by connecting your influencers' social accounts to dyzio 

Tracking of both organic and paid data by connecting Dyzio to your Facebook Ads Manager account 

Live campaign reports, including ROI and Earned Media Value, to view and share
Want to see how other agencies are running their campaigns on dyzio?
Click the button below to book a call with the team today.
Dyzio's white-label solution is built for Agencies
With a range of different white-label options available you can create your company's private and influencer platform and feed your campaign data directly into custom campaign report templates.
White-label features include:
White labeled interface with your logo, visual identity and domain

White label campaign reports & influencer shortlists

Future-ready with ability to integrate new social networks

Developer support to work with you creating new data formats and dashboards

Customer templates and features developed to meet specific enterprise needs

Bespoke authentication APIs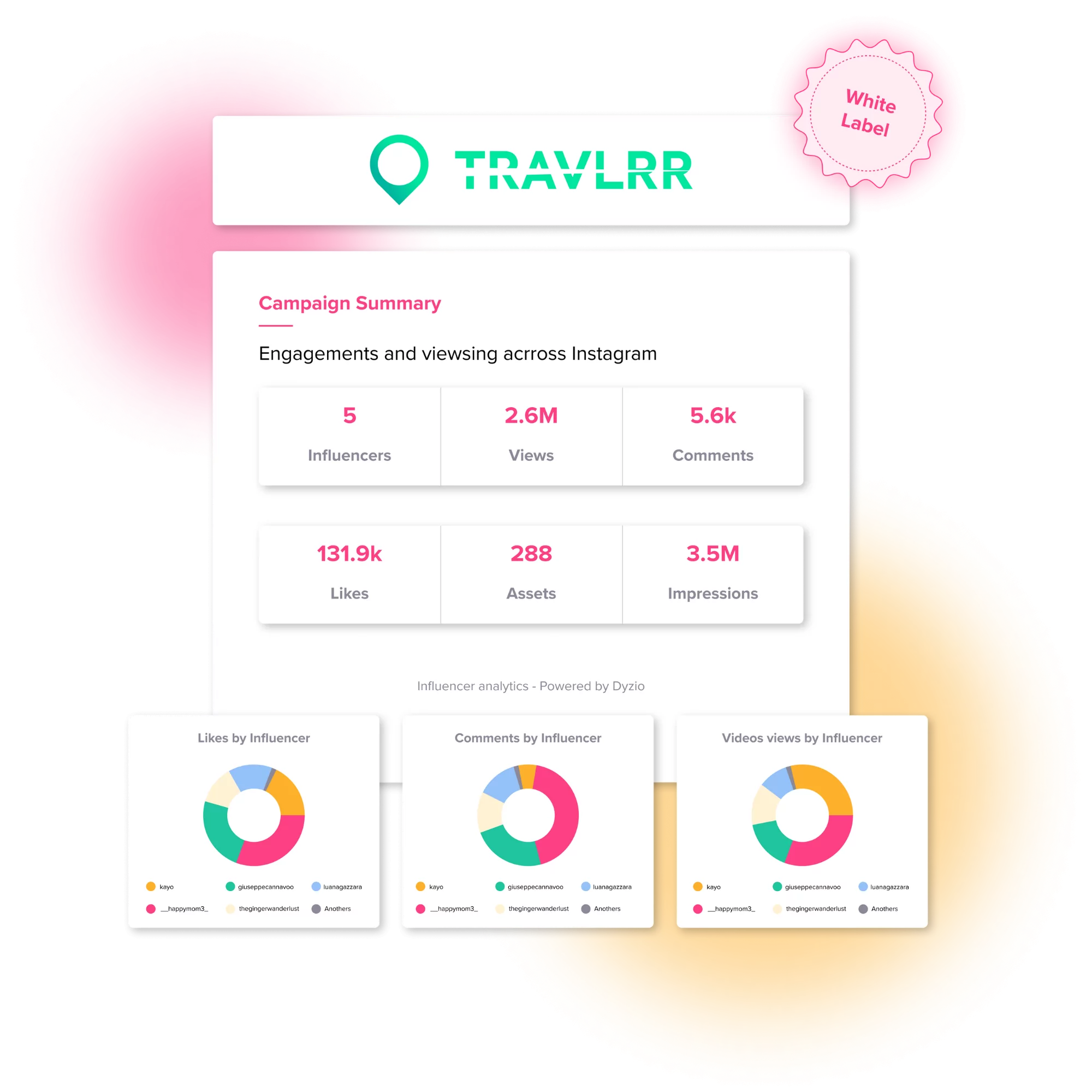 Dyzio's influencer tracking and reporting solutions for agencies
Dyzio includes all the features you need to help you scale your agencies influencer marketing capabilities. From shortlists, to automated campaign tracking, to white-label solutions - we've got you covered.
Influencer Insights

Influencer Shortlists

Campaign Tracking

Campaign Reports

Instagram Stories Tracking

Track Gifting Campaigns

Content Boosting
White Label Platform
Frequently Asked Questions!
Can I use Dyzio to find new influencers?
No, Dyzio is not an influencer search and discovery tool. You can add your own influencers to Dyzio (or import them from a spreadsheet), to create your own private influencer database, share influencer shortlists and automatically track all your influencer posts and sales.
Does Dyzio share influencers I add with other companies?
No, the influencers you add or import into Dyzio are kept 100% private, so only people with access to your Dyzio account can see them.
Can I import my influencers into Dyzio?
Yes. As part of our onboarding process, we upload your influencers to your Dyzio account from a spreadsheet or CSV file.
Which social networks does Dyzio connect to?
Dyzio can find and track social content on Instagram, TikTok, Facebook, Twitter, Youtube, Twitch and Telegram. 
How many campaigns can I track?
There is no limit to the number of campaigns you can track on Dyzio. You can also run multiple campaigns at the same time.
Can I download reports?
All Dyzio campaign reports are live and shareable. When you open a report via the shareable link it will pull the latest available data for each post and story. Report links can be shared via email – no Dyzio login is required to view them.
Do influencers need to connect their social accounts to Dyzio, to track their data?
No, Dyzio can find and track posts, reels, stories TikToks etc. without the influencers connecting. But if the influencers connect their channels to Dyzio it will provide richer insights, like reach and impressions.
Does Dyzio offer an Instagram Boosting service?
Yes, you can connect your Meta Ads Manager account to Dyzio. This will enable you to connect Meta Ad Campaigns to Dyzio campaigns, and include both Organic and Paid social data in your reports.
Dyzio offers a managed Boosting service. The Dyizio team will work with your influencers to connect their accounts, and then boost the best performing influencers' content, to reach agreed KPIs for the campaign.
Does Dyzio offer a white-label option?
Yes, the white-label package includes your logo and main brand colour throughout the app and on the shareable shortlists and reports. Your white-label account is also hosted on your domain e.g. influencers.yourbrand.com.