Manage & scale your influencer & brand ambassador programs
If you've taken your influencer marketing management in-house, or you're looking to scale and expand your existing activities, staying on top of tracking and reporting activity will only become more time-consuming and complex.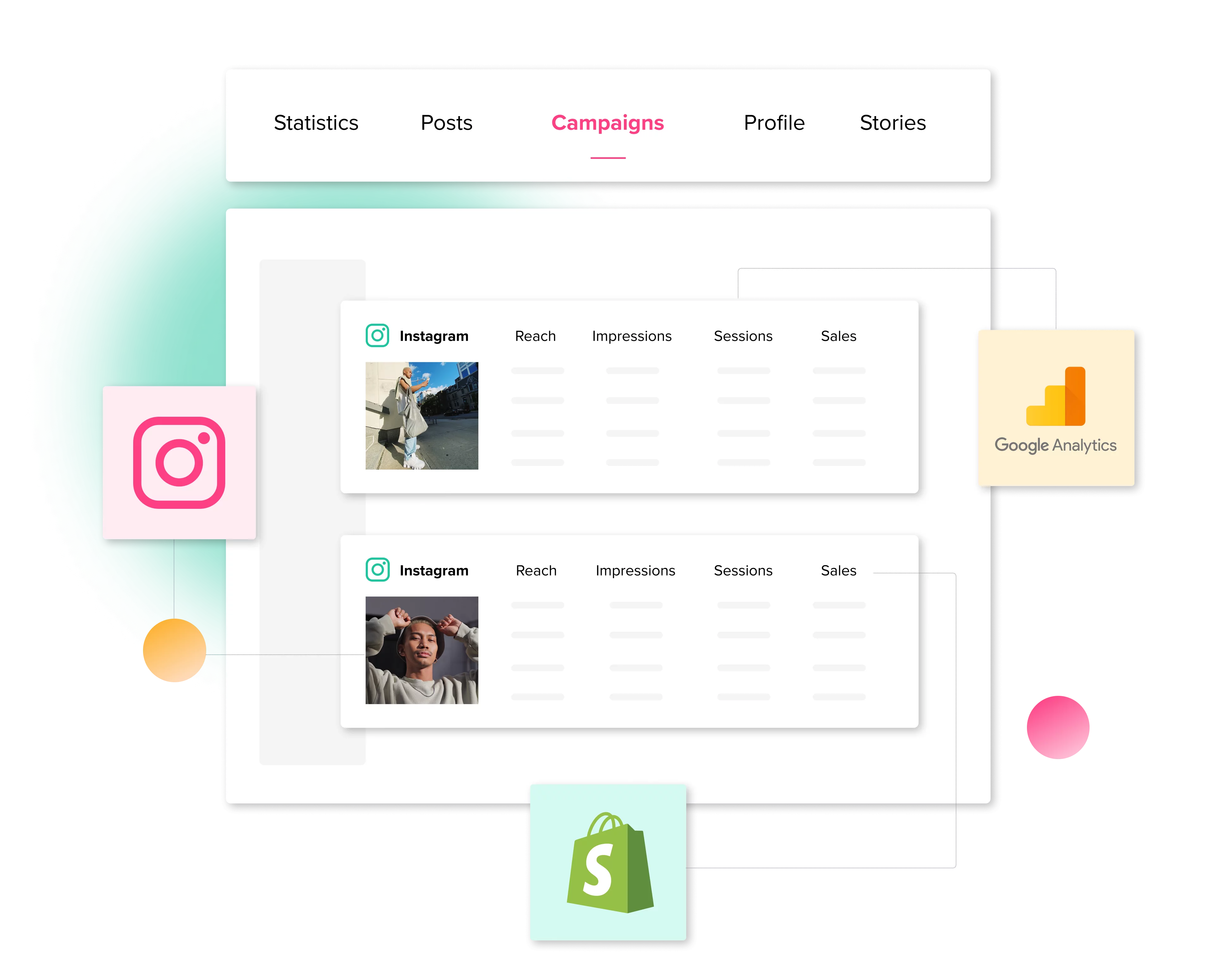 Automated campaign tracking and reporting
Dyzio is the complete influencer data and reporting platform for brands. A smart, scalable and automated way for brands to manage, monitor and maximize the activity and growth of influencer-driven campaigns and ambassador programs, from social to eCommerce sales.
Automatic tracking of influencer content across Instagram, YouTube, Facebook, TikTok, Twitter and Twitch
Access to richer insights when influencers connect their social accounts to dyzio
Visibility of every Instagram Story – we've got the data covered
Tracking of organic and paid data when you connect your Facebook Ads Manager account
Track post-click activity when you connect your Shopify or Google Analytics accounts including page visits, orders and sales
View and share live campaign reports, including ROI and Earned Media Value
Want to see how other brands are running campaigns on dyzio?
Click the button below to book a call with the team today.
Boost your sales with AI and powerful integrations
So what is a Data-driven influencer marketing? It's the ability to automatically track and analyse influencer performance in real-time, then boost the best performing influencers' content to increase the reach and impact of your brand's campaigns, through highly targeted paid media.
Monitor your sales with a free Shopify integration
Identify best performing influencers and content
Boost your influencers and sales
Powerful integrations, Ai and automation
Analyse the performance of their influencer programs beyond social metrics
Trigger data-led decisions and actions based on real-time sales data or other post-click metrics
Supercharge their sales.
Want to see how other brands are running campaigns on dyzio?
Click the button below to book a call with the team today.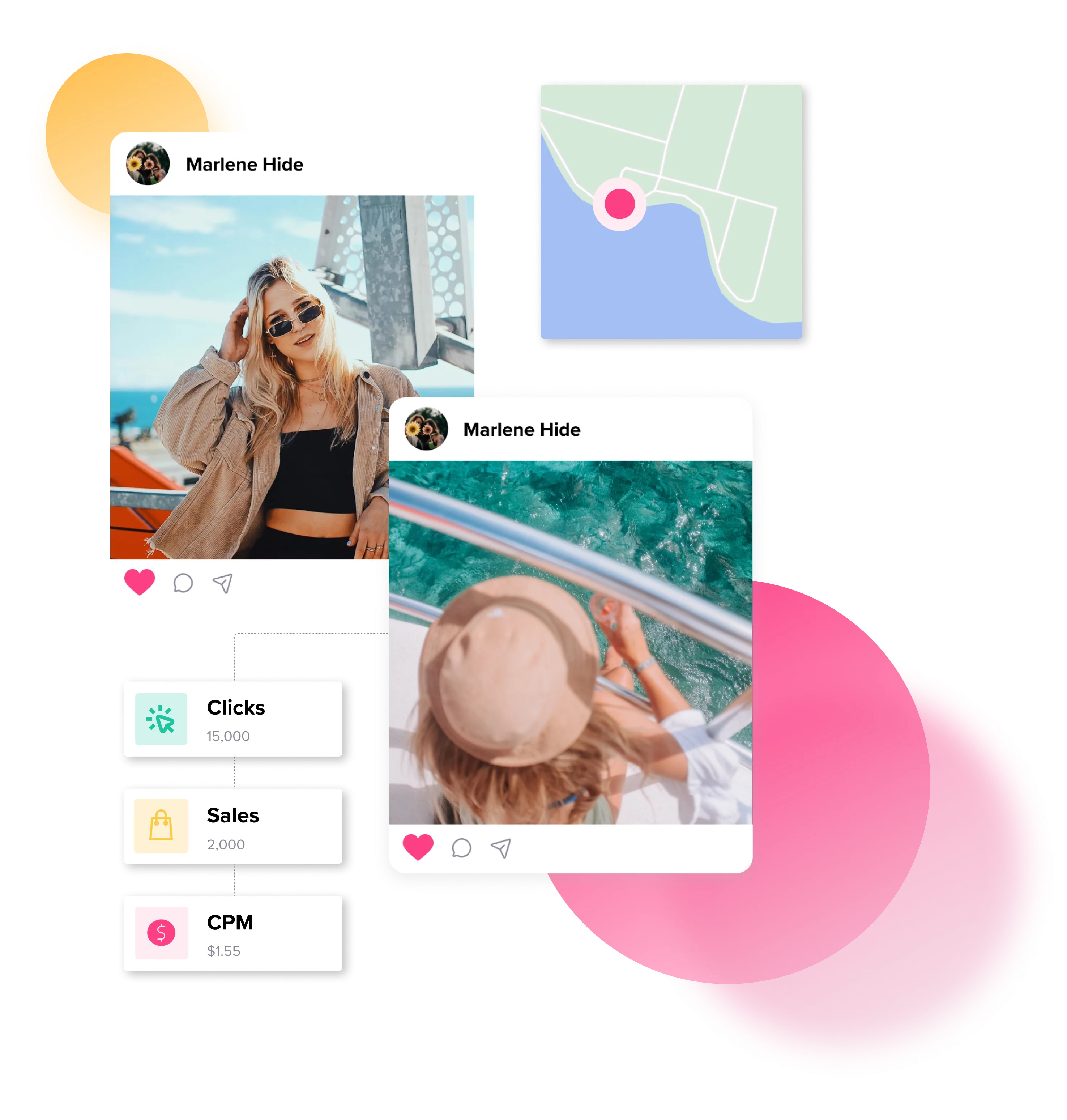 Dyzio features for Brands
Dyzio includes all the features and integrations you need, to manage, optimise and scale your influencer campaigns, ambassador programs and eCommerce sales.
Influencer Database

Influencer Shortlists

Campaign Tracking

Campaign Reports

Google Analytics Integration

eCommerce Integrations

Content Boosting

Track Sales Revenue
Frequently Asked Questions!
Can I use Dyzio to find new influencers?
No, Dyzio is not an influencer search and discovery tool. You can add your own influencers to Dyzio (or import them from a spreadsheet), to create your own private influencer database, share influencer shortlists and automatically track all your influencer posts and sales.
Does Dyzio share influencers I add with other companies?
No, the influencers you add or import into Dyzio are kept 100% private, so only people with access to your Dyzio account can see them.
Can I import my influencers into Dyzio?
Yes. As part of our onboarding process, we upload your influencers to your Dyzio account from a spreadsheet or CSV file.
Which social networks does Dyzio connect to?
Dyzio connects to Instagram, TikTok, Facebook, Twitter, Youtube, Twitch and Telegram. Dyzio can also produce live reports of your campaigns, including engagement rate reports, campaign summary, instagram report amongst others. To find out more you can book a demo with us to address any queries you may have.
How many campaigns can I track?
There is no limit to the number of campaigns you can track on Dyzio. You can also run multiple campaigns at the same time.
Can I download reports?
All Dyzio campaign reports are live and shareable. When you open a report via the shareable link it will pull the latest available data for each post and story. Report links can be shared via email – no Dyzio login is required to view them.
What e-commerce platforms do you integrate?
Dyzio currently integrates with Shopify and Prestashop eCommerce shops. New eCommerce integrations are being added in 2023, if you have a request to support a new eCommerce platform please contact us at
info@dyzio.co
.
Do influencers need to connect their social accounts to Dyzio, to track their data?
No, Dyzio can find and track posts, reels, stories TikToks etc. without the influencers connecting. But if the influencers connect their channels to Dyzio it will provide richer insights, like reach and impressions.
Does Dyzio offer a Meta Ads Integration?
Yes, you can connect your Meta Ads Manager account to Dyzio. This will enable you to connect Meta Ad Campaigns to Dyzio campaigns, and include both Organic and Paid social data in your reports.
Can I boost influencer content on Dyzio?
Dyzio offers a managed Boosting service. The Dyizio team will work with your influencers to connect their accounts, and then boost the best performing influencers' content, to reach agreed KPIs for the campaign.