Travlrr is a global digital advertising company which provides sustainable, remote productions with high quality creative talent and technology. Their technology solutions have allowed for business to create premium content, plates, shot lists and ads in over 100+ countries.
In 2022, Dyzio tracked and monitored Travlrr's Abu Dhabi 2 campaign, gathering data in real time. The objective of this campaign was to showcase Abu Dhabi and the various experiences that it offers to tourists. Travlrr's chosen influencers were sent to Abu Dhabi with diverse itineraries to promote the objective.
Dyzio's Objective

Dyzio's objective was to assist Travlrr's campaign through live tracking and monitoring of its influencers throughout the course of their trips in Abu Dhabi. Additionally, Dyzio was also tasked to deliver three million impressions, and this would be achieved through carefully selecting influencer's content that performed well to be boosted in order to generated a higher impression rate.
1. Track and Monitor Travlrr's Abu Dhabi Campaign in real time
2. Identify and boost best performing content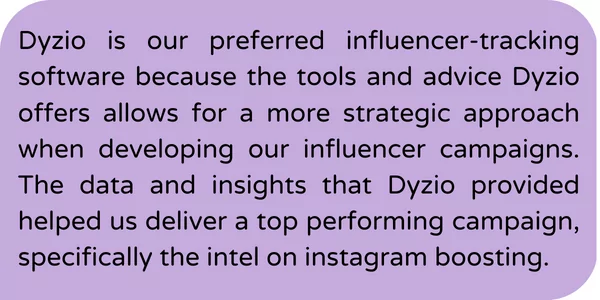 Dyzio's Solution
In order to enable the live tracking and monitoring function, all influencers needed to become authenticated on Dyzio. Subsequently, the influencers needed to connect to Dyzio's facebook ads manager account in order to allow Dyzio the ability to provide real time boosting to the content. Over the course of two months, Dyzio's software enabled for the campaign to be tracked in real time and produced reports on the status and progress of each influencer. Additionally, due to this live tracking and monitoring capacity, Dyzio could actively evaluate the success of each influencers content and strategically select content to be boosted to maximise the number of impressions generated by each post.
1. Influencers authenticated on Dyzio to track organic impressions
2. Influencers connected to Dyzio's facebook ads manager account to provide real time boosting
3. Automate campaign tracking and reporting
4. Identify best performing content to be boosted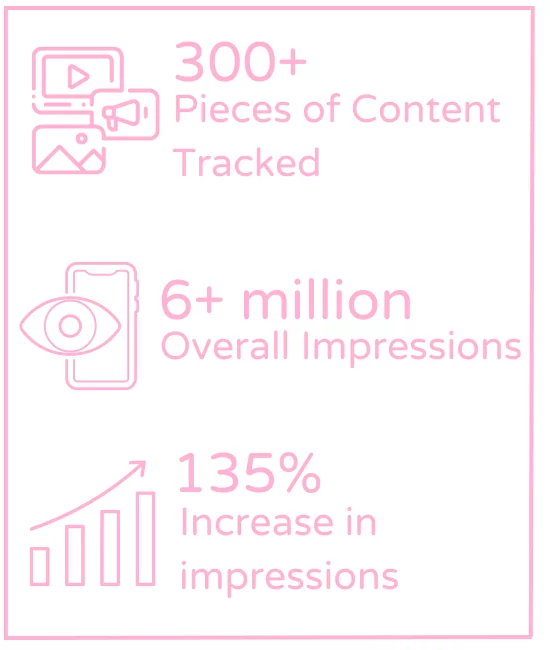 Ultimately, not only did Dyzio deliver the target impressions from organic and boosted data, but through strategically boosting certain outperforming content, Dyzio succeeded in delivering an additional 7 million impressions in boosted impressions. Overall, the number of impressions delivered by Dyzio through organic and boosted content was 135% higher than the contracted number.
Through Dyzio's boosting strategy, the impressions delivered amounted to a 91.7% increase from the target. Due to Dyzio's ability to track and monitor influencer content live, Dyzio was able to immediately identify the influencer's best performing content and therefore could react quickly and select which posts to boost to maximise the impressions generated by the posts.