Ryderwear, an Australian and UK renowned fitness clothing company, was founded by bodybuilder David Lukic in 2009, born out of his frustration at being unable to find workout clothes that fit. He launched Ryderwear out of his grandmother's garage and operated there for the first two years.
10 years later, Ryderwear has successfully harnessed the power of influencer gifting to enhance brand visibility and authenticity, all while avoiding traditional advertising like TV.
This article will be reviewing the influencer marketing strategy behind Ryderwear's influencer campaigns and looking at how Ryderwear could benefit from using Dyzio Shopfluence.
Ryderwear 'NKD Embody' campaign amplified by influencers.
To launch their latest campaign, Ryderwear harnessed the power of influencer gifting, using discount codes across Instagram and TikTok. This strategic approach proved to be a powerful tactic to drive sales, increase brand exposure, and strengthen their partnership with influencers.
Strategies utilised by Ryderwear in promoting the campaign:
1. Engaging with diverse communities
Ryderwear collaborated with a diverse range of niche creators, allowing Ryderwear to connect with new customers on multiple levels.
Micro and nano-influencers
Ryderwear uses nano and micro-influences as essential components of their influencer gifting strategy across Instagram and TikTok. Despite their smaller followings, these influencers had highly engaged follower bases making them ideal to reach niche audiences and foster authentic connections with potential customers.
For example, Ryderwear has partnered with Nano-influencers like @ggtwellness, a wellness coach, who has 1,398 followers and an engagement rate of 4.4% meaning she has stronger potential of connecting with her followers on a deeper level.
Ryderwear's marketing director who runs the influencer program, stated it wasn't about turning a 'random someone into an influencer' but about finding people who have potential – they have a small following, but we can see they've got a really engaged audience and try to build those people up.
Macro-influencers
Incorporating macro-influencers alongside micro and nano-influencers allows Ryderwear to diversify its influencer marketing approach. Ryderwear athlete @Sav_eden is a fitness advocate with a follower base of 166,000. Associating with a well-known influencer can enhance Ryderwears brand image and help position Ryderwear as a reputable and influential player within the fitness clothing industry.
2. Targeted niche audience
Micro and nano-influencers typically have a highly specific focus, often centred around fitness, lifestyle, or fashion niches. Ryderwear identifies influencers who align closely with their brand values and target audience which is predominantly fitness.
By partnering with influencers who have a dedicated follower base, Ryderwear can effectively reach potential customers who are genuinely interested in fitness clothing and related content.
Ryderwear athlete, @Taylorkens_ has 28,000 followers on Instagram and heavily focuses her content on athletic fashion and lifestyle. However, Ryderwear athlete @Sav_eden who has 166,000 followers on Instagram focuses her content on gymnastics and gym tips. The benefit of targeting different niches within the fitness community is that different audiences like gymnasts, athletic fashion and body builders can become aware of how Ryderwear is fit for different activities.
Leveraging User-Generated Content (UGC)
When influencers receive gifted products, they create user-generated content, such as photos and videos, promoting the products with their unique discount code. With permission, Ryderwear can re-use the user-generated content for their own social media profiles.
Ryderwear's social media profile primarily consists of user-generated content, particularly from macro-influencers indicating that selected macro-influencers play various roles beyond receiving gifts. For example, @Sav_eden is not only a Ryder athlete who creates content as part of Ryderwear's gifting program, but Sav's content is used for sponsored ads and also collaborates with Ryderwear and hosts giveaways on their Instagram.

However, Ryderwear also uses selected nano-influencer's beyond influence gifting. Nano-influencer like @_parisweaver who has 4,097 followers, is a Ryder athlete who creates content as part of the gifting program but also features in Ryderwear's campaign shoots of new collections like NKD Embody.
Not only does the large amount of user-generated content prove valuable for repurposing on Ryderwear's social media profile, but it enhances brand credibility and also encourages their audience to purchase the product.
This suggests selected influencers are used beyond influencer gifting and act as brand ambassadors by participating in campaign shoots for the new 'NKD Embody' collection featured on Ryderwear's website and social media profile.
Diving into the data
Dyzio captured a total of 99 Instagram Reels and photos and TikTok videos posted by nano, micro and macro-influencers partnered with Ryderwear for the NKD Embody campaign.
Across Instagram and TikTok combined, these influencers generated an amazing
1.8 million views
2 million impressions
134,00 engagements (likes + comments)
Nano-influencer @ggtwellness who has a follower count of 1,398, actively participated in the Instagram campaign. Throughout the campaign, Lisa shared 10 pieces of content and 2 instagram stories resulting in a total reach of 2,000 views, 5,000 reach and 949 engagements.
Despite being the smallest influencer partnered with Ryderwear, Lisa received the highest engagement rate of 6.29%, highlighting the power of influencer gifting using nano-influencers to engage better with their followers.
Macro-influencer @sav_eden who has a follower count of 166,000, has shared 5 pieces of Instagram content and 1 instagram story which received 91,000 views, 290,000 impressions and 24,000 engagements.
In comparison to nano-influencer @ggtwellness, Sav achieved an engagement rate of 2.91% and secured the highest number of impressions at 290,000. This outcome reinforces the effectiveness of utilising macro-influencers as a strategic approach to optimise brand awareness and reach a wider audience.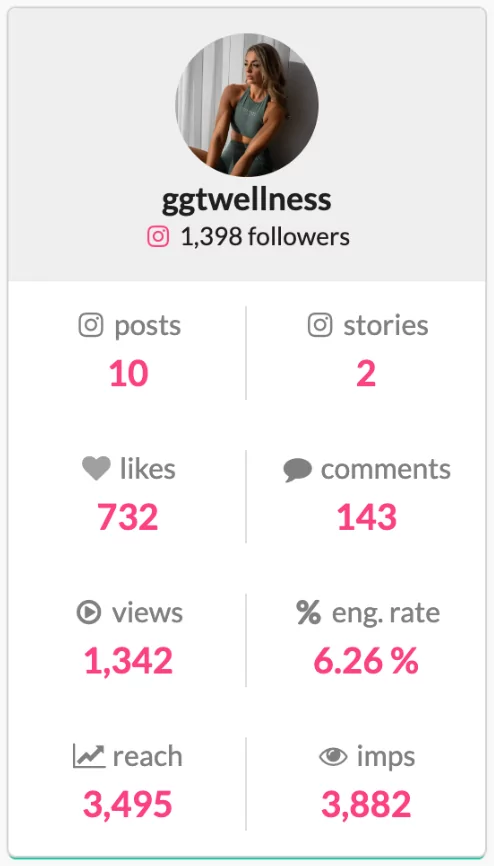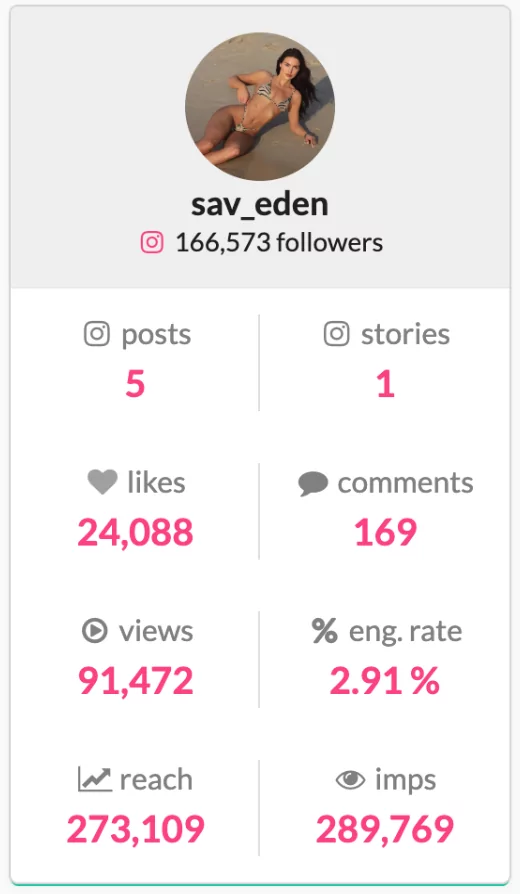 How Ryderwear could benefit from Dyzio Shopfluence
Dyzio Shopfluence offers the potential for Ryderwear to streamline and scale their influencer gifting activities efficiently. Connecting their Shopify store to Dyzio, Ryderwear can distribute unique discount codes to influencers automatically, via white-label emails, streamlining the process and saving time.

Eliminating the need to send influencers discount codes manually, Ryderwear can save time, reduce the chances of error, and scale their influencer gifting program to reach maximum potential.

Once the influencers' social content goes live, Dyzio Shopfluence will track and report any orders and revenue associated with each influencer and their followers. So, Ryderwear can see which influencers are driving sales and look to collaborate with them on a deeper partnership.
Key Takeaways
Macro and nano-influencers partnered with Ryderwear for their NKD Embody campaign were used to enhance brand credibility by repurposing influencer content on their social media profile, featuring influencers in their campaign shoots and website homepage. This shows that macro and micro-influencers are used beyond their gifting campaign and are treated as brand ambassadors. Whereas the micro-influencers Ryderwear are partnered with, are used to reach Ryderwears target audiences by engaging with niche communities and foster relationships because of their high engagement rates.
If you're running influencer gifting campaigns and would like to know how you can rapidly scale your gifting program, download our FREE guide here or click below to book in a call with Dyzio.