bCreator is a UK-based events company, offering premium events to clients throughout the UK and hosting major influencer events such as the bCreator Awards, the bCreator Beauty show and the bCreator Health and Wellbeing show. With their brand message being 'Bringing brands and creators together through premium events', bCreator's network of brands and creators bears names of some of the biggest players in the influencer marketing industry, including brands such as TUI, TikTok, Amazon Influencers and L'Oréal, and influencers such as @zoesugg, @brontekingg and @jackbenedwards.
In 2023, Dyzio tracked and monitored bCreators Travel Creator Show, gathering data in real time of over 200 influencers and generated a campaign analysis report.
Dyzio's Objective
For this job, Dyzio was tasked with first creating a campaign for bCreator's event where we would track and monitor live data from the invited influencers and sponsors before, during, and after the event on Instagram, TikTok, Facebook, Twitter, Youtube and LinkedIn. In addition to this, Dyzio was also asked to create a report that would analyse all the data gathered during the campaign to showcase insights such as the Total EMV generated, total reach, top performing content creators and content, demographic analysis and individual sponsor reports.
1. Set up, Track and Monitor bCreator's Travel Creator Show in real time
2. Conduct data analysis to generate report covering insights from the event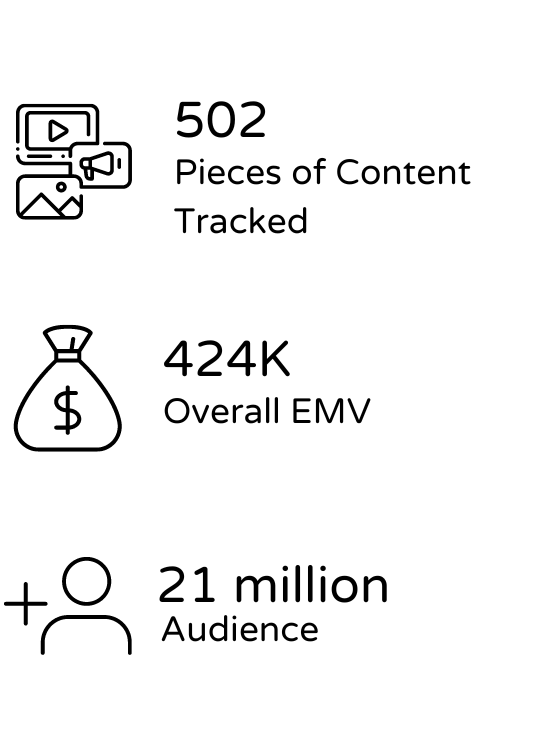 Dyzio's Solution
Dyzio proceeded to set up a live campaign for bCreator, starting the live tracking and monitoring four weeks prior to, and two weeks after, the event to ensure all social media coverage was captured.
Once the campaign tracking time ended, Dyzio proceeded to analyse the data captured to produce insights for bCreator about their event.
Dyzio produced a report covering an overview of the total EMV, reach and assets identified by Dyzio's software. Tracking content on Instagram, Facebook, Twitter, TikTok, YouTube and LinkedIn, Dyzio's software picked up over 450 assets from the 200+ invited guests and sponsors of the event.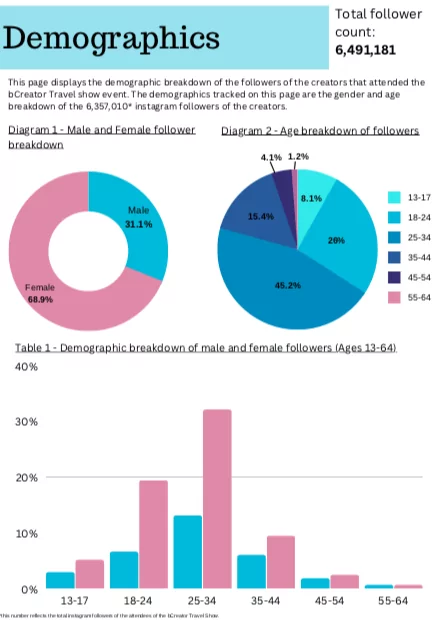 Dyzio's report also included the top performing content and influencer for each social, which was measured by EMV calculated by Dyzio's software. Finally, Dyzio's report also included an analysis on the demographic breakdown of the followers of the content creators.
"It was great to track the social content from the bCreator Travel Show, and show the brands in attendance the social media impact of showcasing at a bCreator event! Team Dyzio were great to work with, and condensed a LOT of data down into an easily digestible format"
Alice Audley
Head of Event Partnerships at bCreator